SHS Tube frame temporary fence is similar but different with the welded mesh infilled temporary fence. It is popular used in Canada, so we also call it Canada fence. The fence mesh is welded mesh panel, fence frame is welded by square tube, and then weld the mesh panel and frame together. At last we do powder polyester coating. The base foot is flat steel plate.
Temporary fence is widely used in temporary construction sites, a variety of sporting events such as the Olympics, world cup several kinds of sports championships. As the fence in most cases is for the purpose of temporary use, so the product can be used for leasing, recycling.
Features:
• Quickly and easy installation and removable
• Cost effective
• Recycle
• Different options on color according to the using environment
Application: sports stadium, business and industry, factories and workshops, public buildings, construction places, swimming pools
Standard color:

Technical:
Mesh panel - SHS tube frame
| | |
| --- | --- |
| Width : | 8ft, 9.5ft, 10ft |
| Height: | 4ft, 6ft, 8ft |
| Mesh: | 50x50mm, 50x100mm, 50x150mm |
| Wire thickness: | 3.5mm, 4.0mm |
| Outside frame: | 25x25mm, 30x30mm |
| Middle brace: | 20x20mm, 25x25mm, 20x40mm |
| Frame thickness: | 1.5mm, 2.0mm |
Base block
• Steel plate
Accessories:
• Metal clamps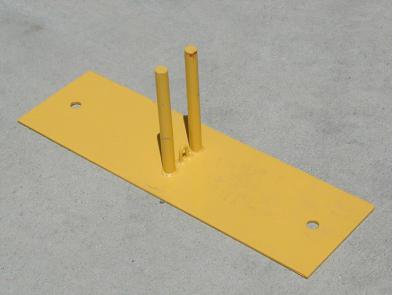 Packing:
Panel: Metal pallet wrapped with cardboard plate and then wrapped with plastic film;
Base foot: loading in bulk or in pallet;
Accessories: Cardboard box;
Special request on packing is available.